Recent thoughts on maps include the possibility of working with fabric and quilts. I am currently waiting to pick up the sewing machine I bought from a garage sale from my mother who was giving it a tune-up. My mother has extensive experience with sewing machines being a quilter herself. I have been the only female in my family to stop the tradition of quilting in my family. But I have a feeling this is no longer true. During my wait I decided to do some google research.

I found a great blog: Cartophilia

Which led me to
steak maps.
l
Then the ever trendy Famille Summerbelle's decorations for a child's rooms
Matthew Cusik


Detail of
Charlie's Angels
, 2009
Leviathan
, 2008
Illustrated bible, sumi ink, charcoal, chalk, on panel
45 x 64 inches
Bonnie
, 2004
Maps on wood panel.
42 x 60 inches


Nina Katchadourian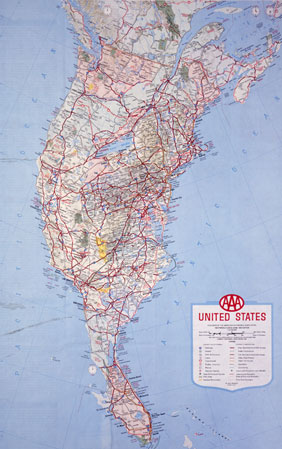 Coastal Merger, 1993
Reconstructed paper map, 15 x 30 inches

"I was born in California, moved to the east coast for college, went back to the west coast for graduate school, and now live on the east coast again. This map reflects my bi-coastal experience of this country."
Brenda Jones
"Actually, I use maps in the work often to signify a geographic place where I was when those thoughts were going through my head. Also, I sometimes use them because they really give a place to the person I was thinking of. Or, sometimes it is simply because they symbolize some time of journey to me and most of the works do have something to do with a journey of some sort or another...whether it is mental or geographic."
Marek Ranis and Maja Godlewska, Installation Artists
And a
Quilter's
Map.
Radical Cartography
by Harold Fisk in 1944
I lost the name for this artist. If anyone finds it please let me know.
Ian hundley
Oberg Green, 2000
cotton, wool, silk & linen
70 x 70 inches
Emily Fischer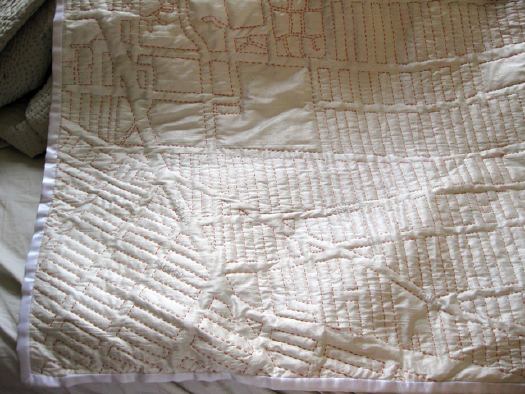 Fantastic. Haptic Lab's Haptician in Chief is Elizabeth Emily Fischer, who makes Soft Maps, quilts with map patterns stitched onto them:
"These heirlooms are meant to be used: wrap your children in them, have a picnic, pull them close during the next Nor'easter. Not only beautiful, these blankets can be used as a mnemonic tool. As your child grows up with a Soft Map, they learn to read their neighborhood and its landmarks in a tactile, easily remembered way."





Joyce Kozloff
Targets

Acrylic on canvas, with wood frame
108x108 in
Secret Kiss, 1999, knitted wool, 40 x 20 x 33 cm
City Drawings Series (Addis Ababa), 1997, pencil on paper 31 x 21 cm
Little Universe 2 , 2006, enamelled bronze, unique, 9 x 40 x 20 cm

Guillermo Kuitca

People on Fire
, 1993
mixed media on canvas
76 x 110 inches
Neufert Suite (Offices and Workstations)
, 1998
oil and colored pencil on linen
77 x 77 inches